To enter this site you must be at least 18 years old
2022 Watervale Riesling - Runout Special
The famous 2002 vintage had an almost identical growing season to the 2022, resulting in a longer, cooler ripening period, with more flavour development over time and beautiful natural acidity.
Wine Club Members Price
Vegan
Variety
Riesling
Region
Clare Valley
Food Pairing
Seafood
Vintage
2022
Bouquet
Lifted kaffir lime aromas, citrus blossoms and orange zest with hints of wild fennel.
Palate
The fine yet powerful palate has a lingering finish and balanced natural acid line.
Ageing Potential
Drink now or cellar for 15-20 years.
Vineyard
This vineyard has classic Watervale soils - red loam over limestone with a westerly aspect. A dry grown vineyard - meaning it relies only on natural rainfall - the vines are hand-pruned and fruit hand-picked. The limestone allows the soil to retain moisture, which assists the wine throughout periods of warm weather, almost drought-proofing in the summer months. Viticultrual practices include vertical shoot positioning, which not only encourages even ripening but provides important shade to prevent the impact of sunburn on the wine.
Vinification
Fruit is harvested by hand and stored undercover, with approximately seven tonnes being picked in one day. The fruit is de-stemmed and crushed then gently pressed, resulting in a fine free-run cut and a pressings component, which are handled separately. The free-run juice is chilled to preserve the vineyard expression and purity of fruit. Once the juice has settled, it is racked off solids and seeded with yeast. A cool, temperature-controlled fermentation is carried out over 10-14 days.
Technical Details
Alcohol - 12.0%
pH - 3.03
Acidity - 7.4g/L
AWARDS + REVIEWS
92 Points - 2024 Halliday Wine Companion
98 points - Wine Pilot

"Such an exquisite wine. Dave O'Leary compares 2022 with the legendary vintage of 2002 (what a surfeit of riches we've had with the 22s following the wonderful 2021s) and on the evidence of this wine, no argument from me. The dry grown vineyard is classic Watervale, red loam over limestone with a westerly aspect. The hand-harvested fruit is de-stemmed, crushed and gently pressed. A component of the pressings is incorporated with the free-run juice, which is chilled after the pressing. The juice is settled, racked and yeast added. Fermentation is kept cool and takes around ten to fourteen days. Beautifully perfumed, this is so fragrant. An utterly magical nose. The wine seems so fragile but there is coiled power lurking below. Seamless, balanced, focused, we have notes of lemons and limes, florals and glacéd fruit. Gentle persistence and the palate really is incredibly long. It is so beguiling now that cellaring will be difficult but it will easily handle ten to twenty years and improve over that time. A brilliant Riesling. This is $25. Seriously? Is this the greatest bargain to be found anywhere in the world? Anyone without a case or two in the cellar is not serious about wine." - Ken Gargett
96 points - Wine Pilot

"O'Leary Walker's Watervale Riesling is aromatic, intense, brisk and pure. Which is exactly what we expect and want from the Watervale sub-region, one of the Clare Valley's most distinctive and undeniably classic spots for Riesling. Sets a highly fragrant tone from the outset with spring blossom, jasmine, talc, lemon sorbet and lime zest aromas. A fabulous, seamless wine with no harsh edges; only a glorious flow through the mouth dripping in lime cordial, grapefruit pith, talc and a spray of gentle spice. Intensity rises assisted by a clean slate-minerality before closing with a sour lemon drop tang. Too often, Watervale riesling is viewed – price-wise and quality-wise – as somehow the junior partner to its Polish Hill River sibling. Not this time round. In an outstanding vintage such as 2022, both stand tall." - Jeni Port
95 points - Wine Pilot

"2022 was a fabulous Riesling year in Clare and this wine has captured every last nuance of the year and region to perfection. Has a bright purity from the first hit on the nose through to the wonderful palate. The nose has a strong citrus character with a subtle spiciness. The natural acidity ensures its length now and will contribute to its great cellaring potential. A cracking wine that continues to offer remarkable value for money." - Ray Jordan
93 points - Real Review

"Pale and bright in the glass with youthful lemon zest and bakery aromatics. Fresh and zippy on the palate, lemon fruit with lime hints and the beginnings of a chalky minerality. Acidity is the driving factor but there's good mid-palate intensity to keep it very well balanced. Many years ahead of it" - Stuart Knox
92 points - Halliday Wine Companion
"It feels like this wine has never had a price rise, though it now has a snazzy new label. Quality winemakers the underpinning of these wines, too. It's a juicy, refreshing expression of Watervale Riesling. Lime juice, a clatter of saline minerality, some faint ginger, preserved lemon and apple juice in scents and flavours. Not the most tense of Rieslings, but drinkability is high and there's a nice, come hither, loose-knit feel to the palate. The finish is a puff of chalky, talc-like chew – nice." - Mike Bennie
92 Silver, 2022 Perth Wine Show
90 Silver, 2022 Royal Melbourne Wine Show
Latest Releases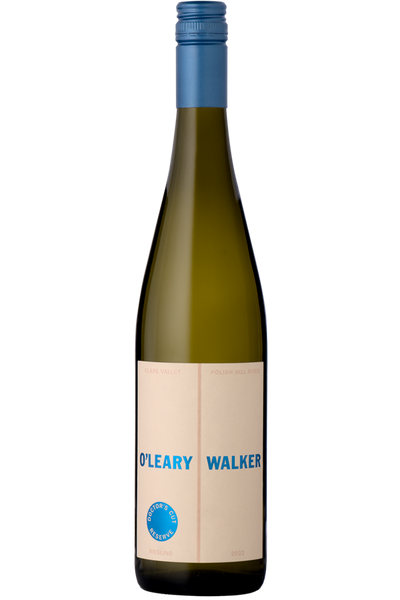 2023 Polish Hill River Riesling
Notable Releases
Rated 95 points by The Real Review, a great vintage in the Clare Valley has produced a perfectly balanced Riesling with notes of lemon and lime zest.
Minimal winemaker impact has produced a pure, vineyard defined wine with intense citrus, refreshing acidity and beautiful balance.
The crisp characters of our 2012 Watervale Riesling are the result of a standout vintage. This wine received Top Gold Medal at the 2012 Royal Adelaide Wine Show (Class 5) and Gold Medal at the 2012 Royal Queensland Wine Show (Class 1).